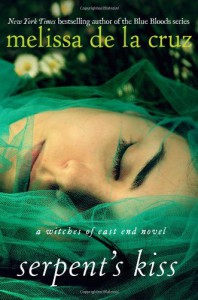 Posted also at my blog:
The Book Twins | YA & Adult reviews
The sequel to Witches of East End is quite as thrilling, if not even more so than the first book.
We deal with the return of not just one, but two characters from the past.
Not only do we and Freya discover that whom she thought was her love, Balder, she was mistaken and it turns out to be the guy who she felt an undeniable connection to all along. Now the truth is out in the open, Bran's true colours start to show and there is no doubt who he really is.
With the return of Freya's twin brother, Freddie, he holds a secret that threatens to tear Killian and Freya apart forever if it turns out to be the truth. Everyone has a secret, but the question on whether or not all the facts are in the open remains to be seen.
Killian and Freya's relationship is stronger now the truth about Bran has been revealed, but there is still something keeping them apart, even if they don't know it.
Bran is also on the loose, and nobody is quite sure where he is, or what he is planning. When it comes to the trickster, nothing is ever certain.
Ingrid and their mother, Joanna also have relationship issues, but that's the least of their worries. Not only do they have to worry about whether or not any punishment will fall on them once the council gets wind they have been using their powers, but also to the fact there is something brewing in town and beyond that could destroy everything.
When all said and done, the question they'll be after is... "What do we do now?"
This book has everything the first had and more. It introduces some new characters. There is surprising reveals, villians and things you don't see coming. There are things you might see coming, but didn't know how they might be played out.
The way this book ends makes you yearn for the next book. I wonder... is this a 3 book series? As it feels like everything is setting up for a conclusion in 'Winds of Salem'. I wouldn't mind, because its a great series and not sure how long this can go on, but then again, I wouldn't say no if she chose to write a few more.